Promos
Videos are in the Windows Media Format. If you don't have the player, it can be downloaded from microsoft.com. To download, right click on desired video and choose "Save Target As."
DO NOT direct link videos, and DO NOT take them for your own site or to make music videos.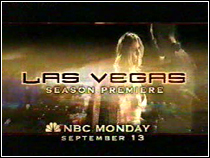 The Proposal Promo
For: Episode 2.1 : Have You Ever Seen the Rain
Description:
First airing at approximately 10:58 PM EDT/PDT, August 15, 2004 on NBC, this is the breathtaking first promo for the show's sophomore season.
Clip:
#1